The National Palace Museum of Korea is giving visitors an opportunity to experience the grandeur of ceremonial attire (wedding attire for Joseon Dynasty royal women) in its second-floor planning exhibition hall. Overlooking the gallery, the ceremonial attire, with its vibrant embroidery in shades of red, unfolds like stunning new wings, making a striking display.
This exhibition is a precursor to a larger event titled "Blooming Hwarot: Bridal Robes of the Joseon Royal Court," which is set to open on September 15. The future exhibition will feature nine rare ceremonial attires, of which only about 50 pieces exist worldwide, and over 110 related artifacts. The media was offered an exclusive preview of the coming exhibition.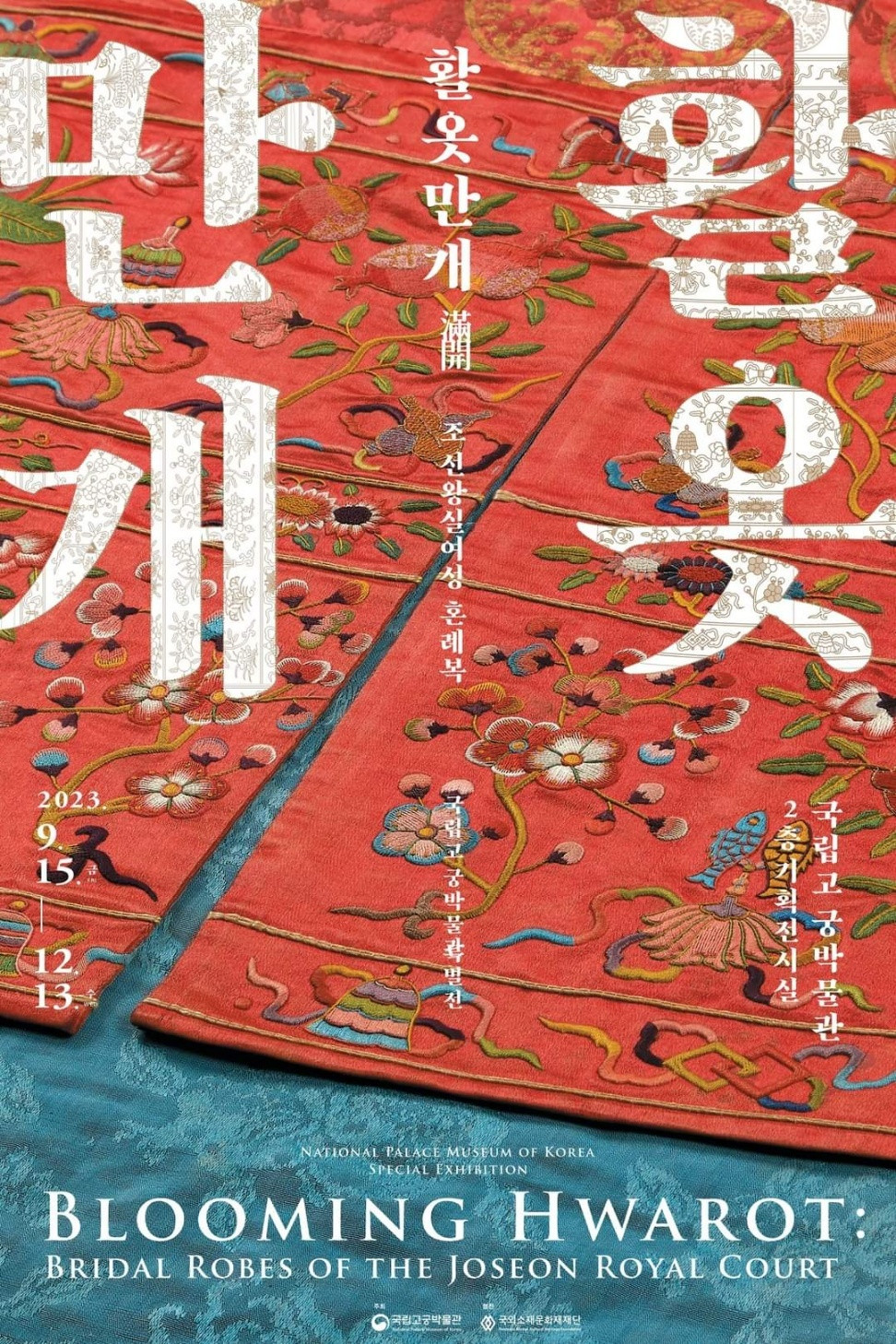 An early 20th-century ceremonial attire, a part of the Los Angeles County Museum of Art (LACMA) collection, stands out due to its excellent preservation condition, which includes detailed embroidery and color accuracy. The attire was brought to the National Palace Museum of Korea thanks to a generous donation of 100 million KRW (~75,392.65 USD) by RM, the leader of the globally acclaimed K-pop group BTS.
The ceremonial attire, when fully extended, measures about 172cm in length and 127cm in width. Intricate patterns featuring symbols of prosperity and happiness, such as lotus flowers, peonies, phoenixes, cranes, butterflies, and more, are meticulously embroidered across the garment.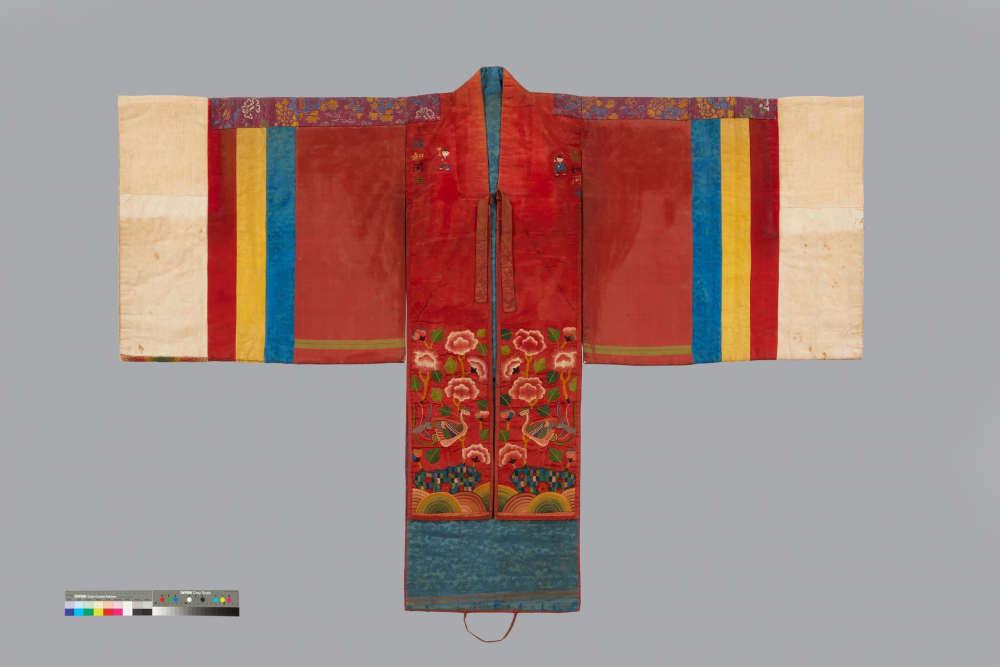 Known as "Hongjangsam," such ceremonial attire originated from the Joseon Dynasty when princesses and noblewomen wore them during weddings. Despite societal norms discouraging extravagance, these ceremonial attires became symbols of opulence and grandeur with their elaborate embroidery, luxurious red dye, and ornate gold leaf detailing. This splendor transcended royal courts, becoming a significant part of wedding ceremonies for common folk as well.
The LACMA ceremonial attire was donated by art collector Bella Mayberry in 1939, albeit the identity of the original wearer is not known. One of the few remaining attires – with a verifiable wearer – belonged to Princess Bokon (1818-1832), the second daughter of King Sunjo. This attire is now housed in the National Palace Museum.
The inclusion of the ceremonial attire from the LACMA collection in the upcoming exhibition is due to a donation by RM to the Overseas Cultural Heritage Foundation in September 2021, designated for the preservation and restoration of cultural heritage abroad.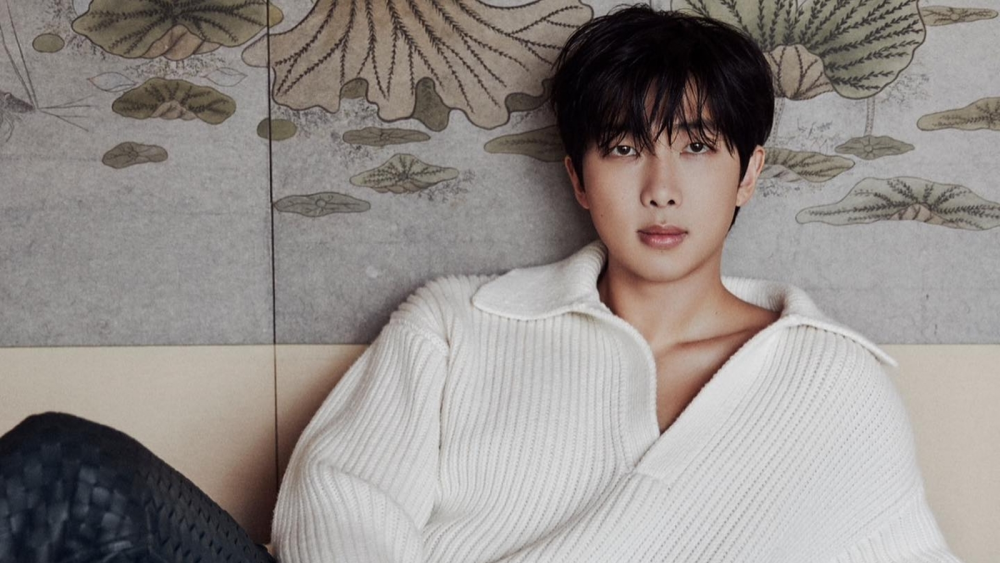 Subsequently, the LACMA ceremonial attire was transported to Korea in October last year and underwent a five-month restoration process. The process involved a meticulous inspection of the materials, production techniques, infrared imaging, and careful removal of contaminants. Areas tarnished over time were reinforced, and the intricate embroidery, once faded, was brought back to life. The ceremonial attire is expected to be publicly displayed in an exhibition in the US next year.
In a written interview, RM expressed his interest not only in contemporary but also in traditional art. "There is cultural heritage abroad that requires preservation and I thought it would be a great opportunity to introduce the excellence of our culture to the world," he stated. He aspires that the restoration of the ceremonial attire will inspire research by providing comparative data and enable people worldwide to appreciate the beauty of traditional Korean culture.
In light of his substantial contribution to cultural heritage preservation, RM was honored with the Cultural Heritage Administration's commendation last year. The additional 100 million KRW donation by RM will be channeled towards creating a booklet titled "Masterpieces of Korean Paintings," which will feature Korean artworks housed in major museums and art galleries worldwide.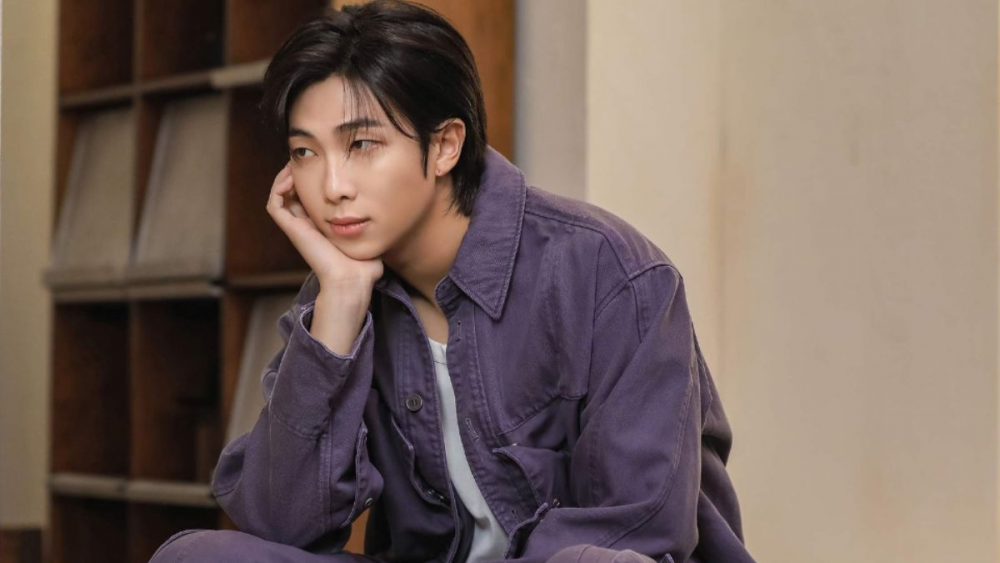 The ongoing exhibition, which will run until December 13, includes video displays illustrating the process of dyeing the ceremonial attire's vivacious red color (called "daehong") and its intricate dressing process. The exhibition aims to offer visitors a glimpse into the world of traditional clothing, facilitating a better understanding of it.
Korean netizens have become awestruck with RM's contribution to bringing a traditional garment to its home country. They commented, "He's really amazing. He's really thinking about the country and their heritage and not just for his image keeping," "I'm going to be part of RM's fandom," "RM's so amazing," "He's such a sensible young man," "If a good person becomes famous, he has immense positive influence," "He's really an amazing person," "Thank you for showing us our amazing heritage by loving art and culture," "He has the best positive influence. I can't help but be his fan," and "BTS is really the prime example of spreading positive influence."
The Post A donation from BTS' RM brings rare Joseon Dynasty ceremonial attire Back to Korea Originally Posted on www.allkpop.com